Post by TX-Zen on Mar 17, 2012 10:32:48 GMT -5
Hawk and Diz, I posted a review of your SVD rig over on AR15.com and wanted to put a copy here too.
I've said it many times in email and I'll say it again...this rig rocks. I want to thank you guys for taking the time to listen and design to what I was after, it says alot about your company and your mindset.
Thanks!
As you guys know in my recent
AAR
about the BehindLines.net class I attended this year, I mentioned that I had a new SVD chest rig from Hawkeye and Diz at UW Gear and that I was really impressed with it in the field. Actually impressed is an understatement, the rig exceeded my expectations and I'm very happy with it so far. I wanted to do a review but have been busy with work and haven't had time to do much since the class back in January.
The new UW rig is based on the original Russian Chamelion 10 mag design and like the BCS rig I helped participate with last year this new rig is also a molle based design that holds 10 mags....with a few differences. While I like the original Chamelion quite a bit and I also like the BCS rig, I haven't been able to get exactly what I personally wanted out of any one rig, and so I went ahead and asked UW to help me get a rig that was closer to what I was after. This rig has a few prototype flaws but in the field it did in fact exceed what I was after and I think after a couple tweaks it will be spot on.
The biggest things missing for me were pocket flaps and dividers between each mag (to help keep the noisy SVD mags quiet) and also replacing the wasted spotter scope flap on the Chamelion with something useful like molle.
Chamelion is a good system but I don't care for the elastic mag retention on the outside of the pockets; and while I think the BCS rig is a good design I just couldn't get on board with the open top pouches on a chest rig that you spend a lot of time going prone with. I don't mind the concept on AK rigs because in the field it's been shown pretty well it's not a problem, but on an SVD rig it just wasn't my cup of tea. So while both Chameliion and BCS are functional neither had all the little details I was after.
Late last year I asked Hawkeye what they could do and after UW listened to my criteria they thought they might be able to custom make a rig that fit my wish list. After getting the rig and using it in Marco's class I am indeed really happy with it and glad I asked them to make it.
Pro's:
Mag draws were very smooth, the snaps on the pockets kept the mags secure but were easy to open while prone and wearing gloves, the elastic retention on the inside of the mag kept the pockets cinched tight and there was no rattle or play when both mags were in the pouch. The dividers helped make the mags nearly silent and stopped them from banging around which was important to me personally. The rig fit well and even with a total of 12 mags and a utility pouch it hung properly and didn't wear me out. The flaps worked as designed, on Saturday night during the NV familiarization it was sleeting/snowing really bad and we all got covered in about a half of inch of snow, the mags were well protected. Stitching was awesome...the rig is built like a tank and feels solidly put together.
Cons:
I think the mag pouches themselves were sewn just a hair too small and that caused minor issues with the second mag not wanting to slide back into the pouch during admin reloads. That also caused the pocket divider to get in the way some. Because it was a prototype for testing the pocket dividers were glued instead of sewn as they would be on a production rig. Between the glue and the slight undersizing of the pouches the dividers didn't hold up for the duration of the class. Neither of these affected the rig while live firing during exercises, it was only slowing down the administrative reloads I did between each drill.
Because it was a prototype I think both are simple fixes...make the pockets a bit larger and sew the dividers in (while making them a tad taller as well). IMO that would cure the problem pretty easily. Again no complaints from me, the rig came through with flying colors where I needed it to perform, the cons are pretty minor for me at this point.
With NDM86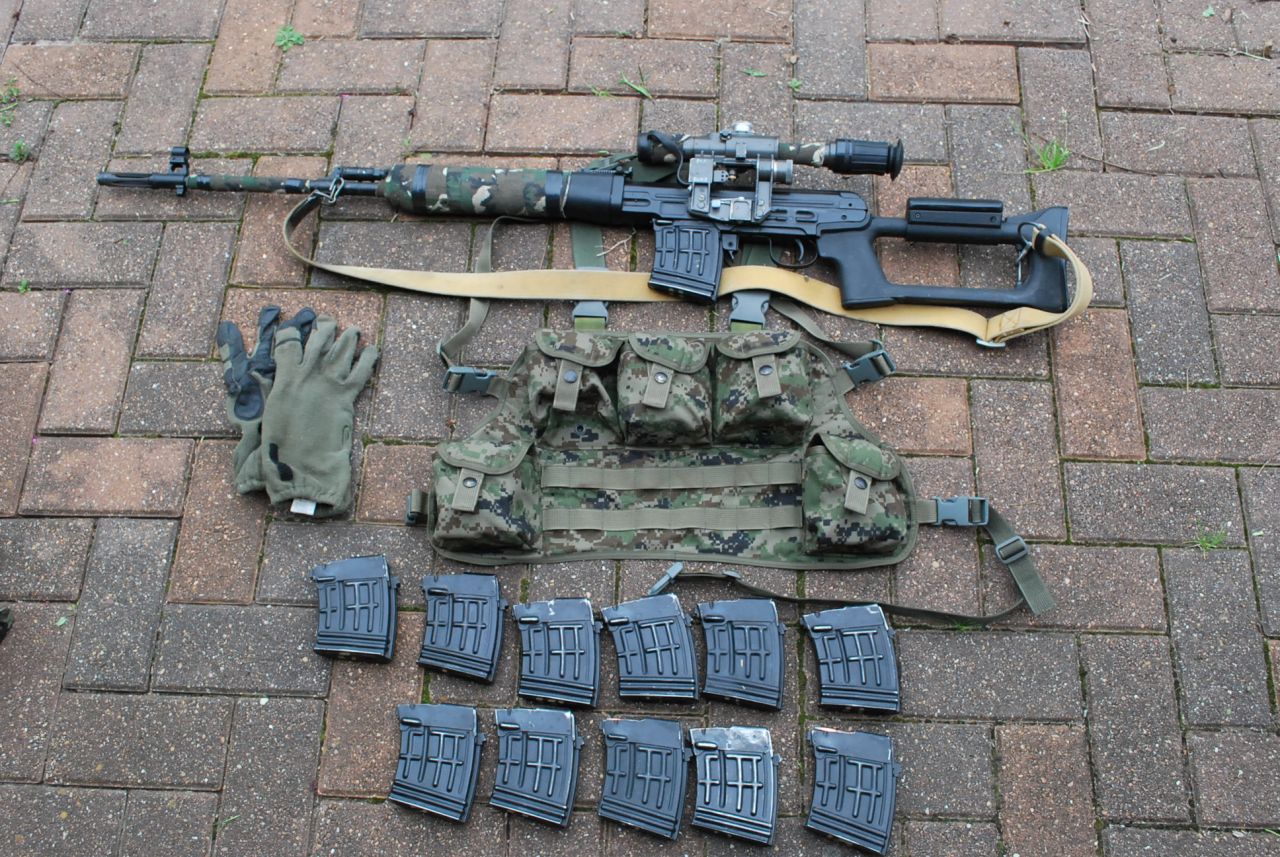 Bungee with internal cover. This can be adjusted for tighter or looser pocket flap fit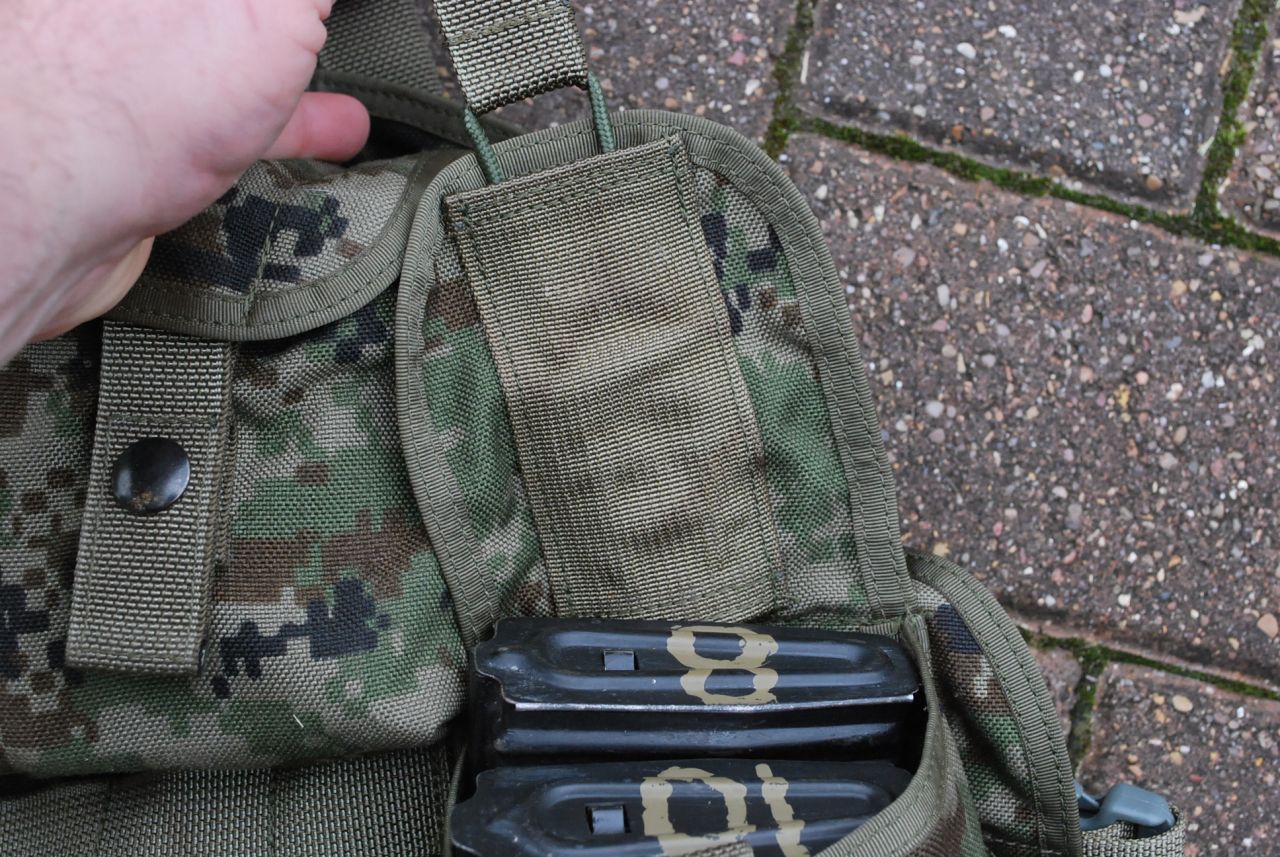 Stitching on the back, no flap or internal pocket on this prototype. I think I may ask for the flap to be readded on the next go around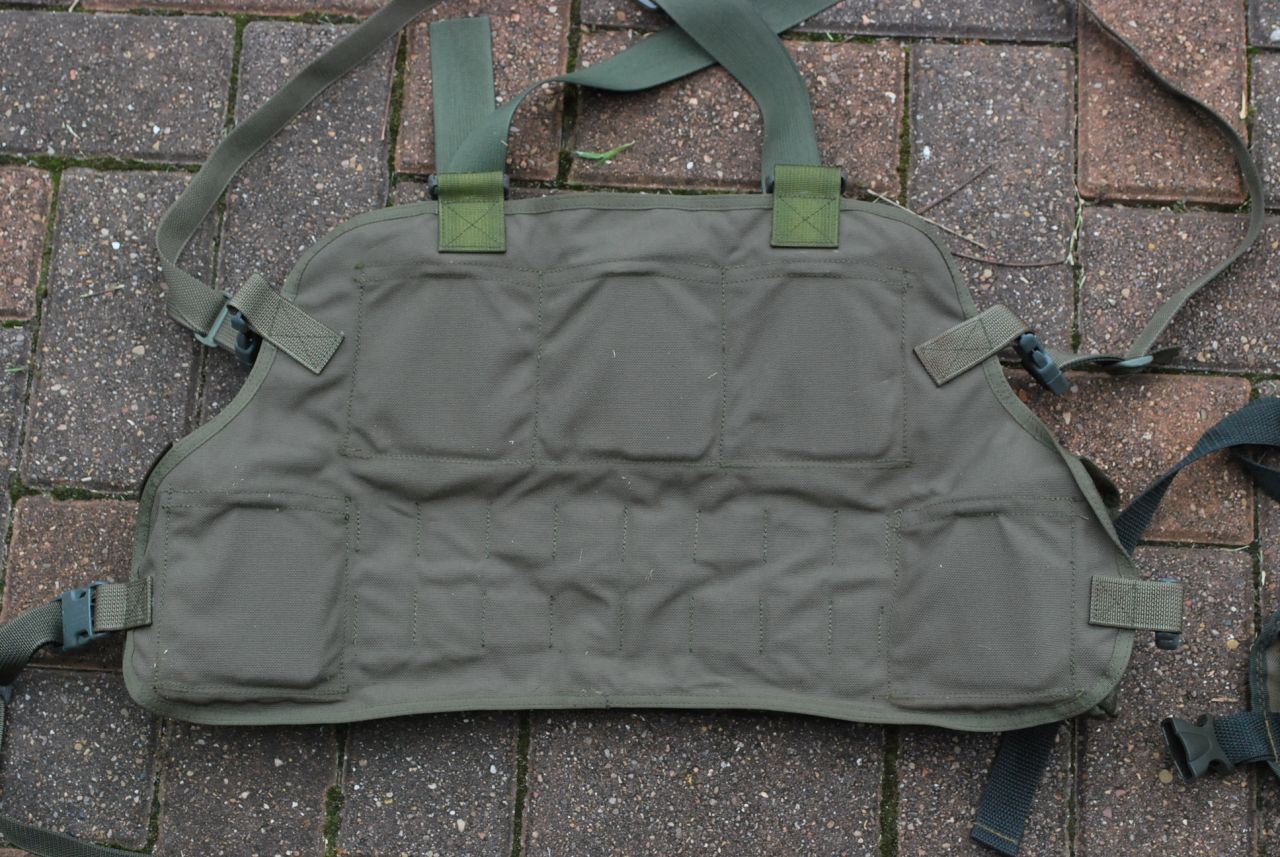 As I ran it in the class with 2 extra single mag SRVV pouches and an admin pouch in the middle I used for range card and a couple small tools. These extra mags are not really accessible prone or in a hurry, and they are not easy to reload when the top pouches are loaded. I used them mainly for administrative purposes and would put these mags on the ground next to me (and the two on the left arm as well) when shooting from a prepared position.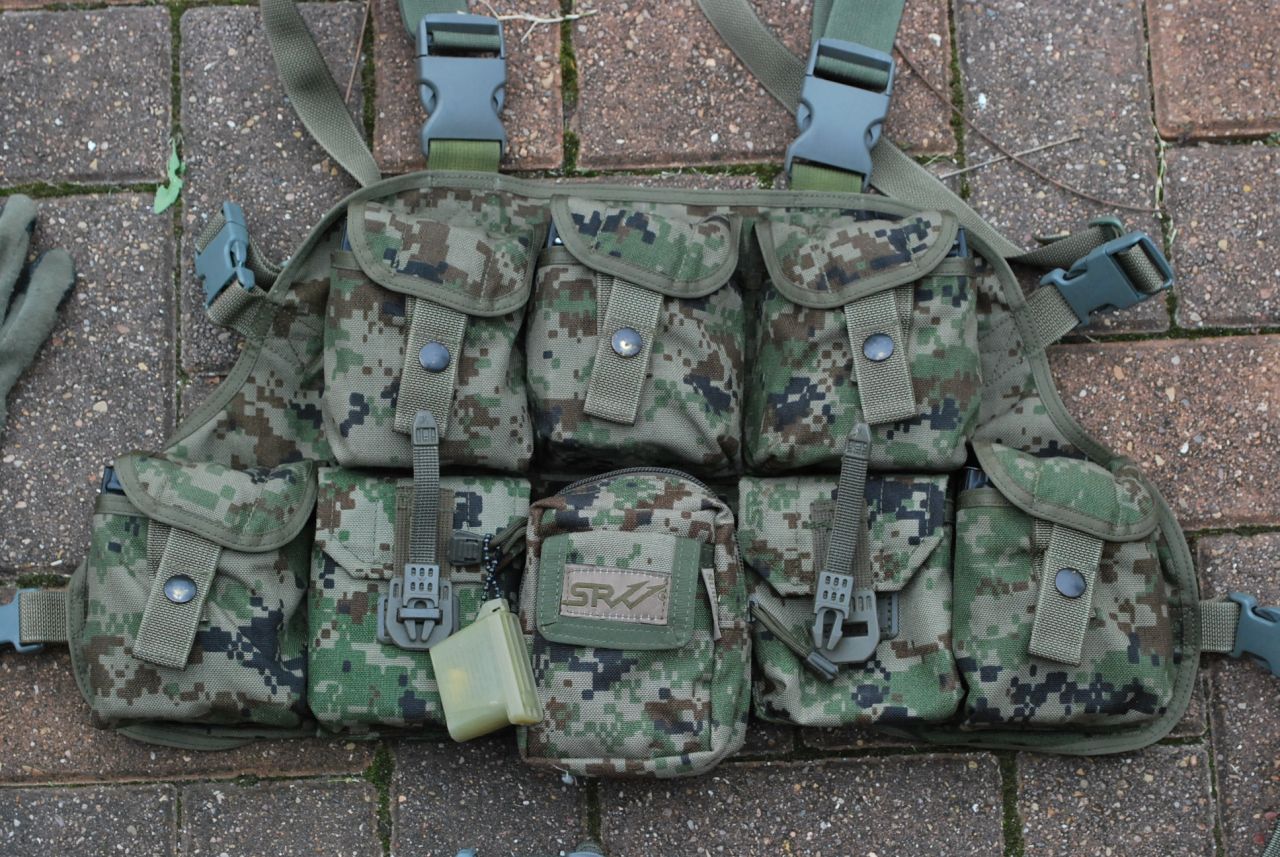 With Chamelion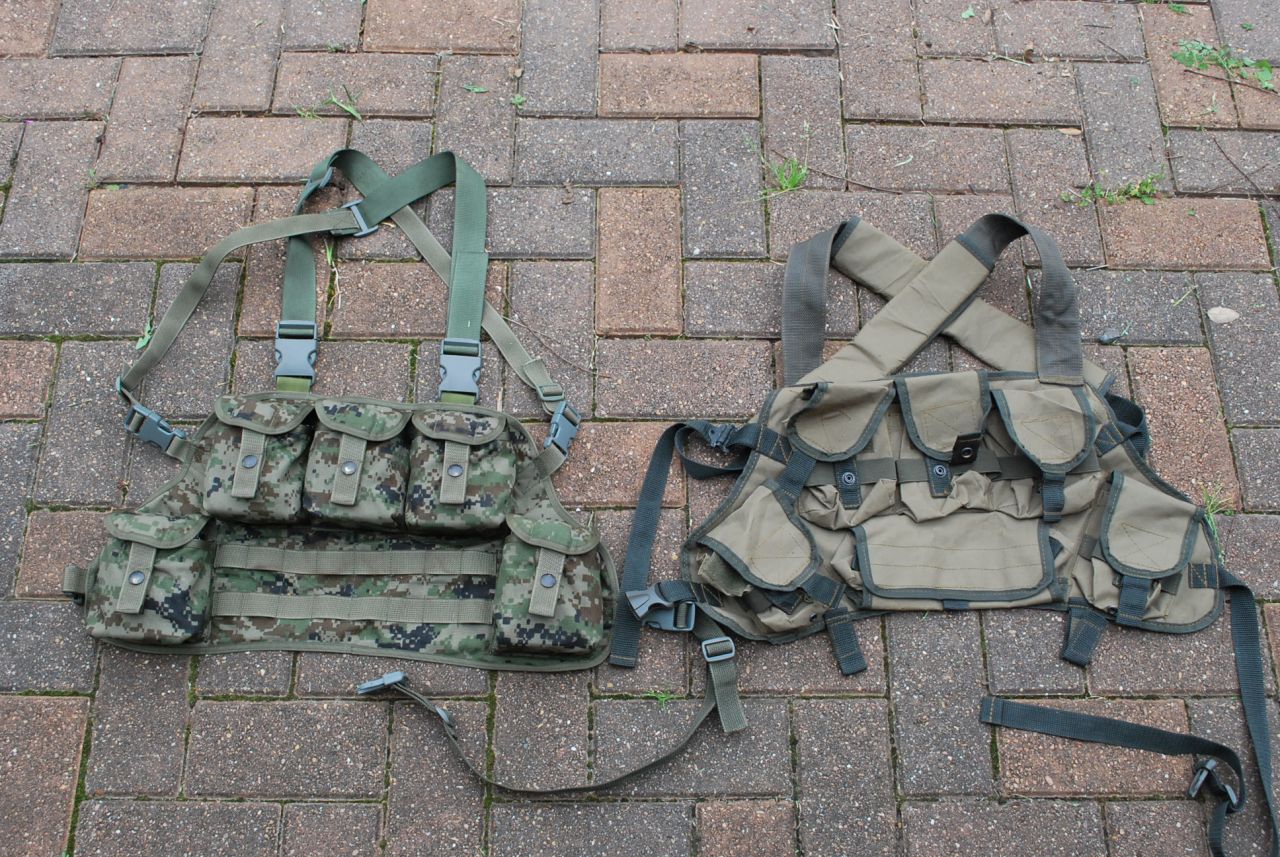 So in summary I think this rig is pretty darn close to what I've been after since first seeing original Chamelion almost two years ago and I want to thank Diz and Hawkeye for putting it together. I was really happy with it in the field and look forward to getting it fixed up on the little details.
Z